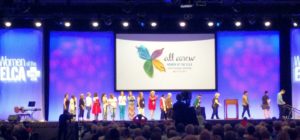 Congratulations to our own Sara Larson from Southwest Minnesota on your election to the Executive Board of the Women of the ELCA!
Congratulations also to our new president, Lisa Plorin, from Western North Dakota Synod. Lisa was our churchwide representative at the 2017 Synodical Convention last May. We are very excited for her!
And, of course, congratulations the all the remarkable women elected to the executive board during the Triennial Convention. They are: Lisa Plorin, Becky Shurson, Freddie Jordan, Anna Sarver, Angela Bell, Tina Bigelow, Elizabeth Burgess, Lois Bylund, Anissa Canova, Lydia Davila, Dinah Dutta, Sandra Grier, Laura Krueger, Sara Larson, Joy Michalicek, Kandy Pflaster, Keala Simeos, Viviane Thomas-Breitfeld, Lynette Todd, Barbara Tormondsen, and Karen Voris.
Please visit https://www.womenoftheelca.org/about/executive-board for more information.